3-2-1 Blastoff - Water Rocket powered vehicles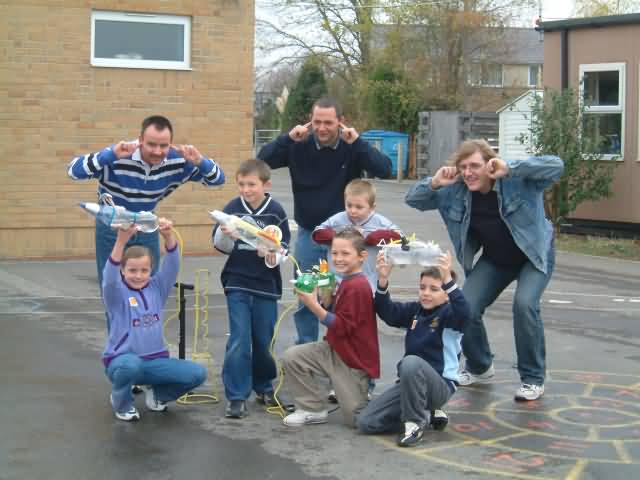 This event uses a water powered rocket in the horizontal position to create a water rocket vehicle. By pressurising the partly-filled bottle with air and releasing it at a pre-set pressure, the jet of water will power the vehicle for up to 20m.
As you can see from the photos and video shorts the day really did go with a blast! The overall aim of the day was to build on the success of Scrapathon with a Twist and sustain the interest in Family Learning we had generated with Year 4 pupils and their families from Chippenham Primary schools. We achieved this aim as more than half of our visitors had attended one of our previous events. As well as designing and building rockets, families investigated water rockets using search engines and the internet. Some Dads showed interest in possibly starting a rocket club and this idea is going to be investigated.
As is usual with Learning Tree events, the vehicles were constructed by the families using recycled materials and the power was provided by water and bicycle pumps!
The Learning Tree and St. Peter's welcomed an Inspector from the Adult Learning Inspectorate who commented upon how well organised the event was.
Click on any of these pictures to enlarge the image
Water Rocket Vehicles at St Pauls
The event was successfully run again when St. Paul's welcomed The Learning Tree back to add a bang to their Science Fortnight (this is an annual national event in schools). Over 100 water powered rocket vehicles were designed and built by the children and families of St Paul's. They then competed on a track in the playground to see which vehicle would travel the furthest with the overall winner on the day receiving a prize. Several showed their rocket ancestry by launching themselves but the distance travelled was taken nonetheless.
The school computer suite was used to obtain the launch password, this ensured that the school achieved its objective of demonstrating the facilities to the parents in a non-threatening way. Follow-on IT and basic skills courses were promoted in this way.
click on the pictures below to see a larger version.
A Windows Media File video (should start playing automatically after loading if you have Windows Media V9 or later installed) Right Click Here to manually download the higher quality version (2.4mb)
Water Rocket links
As part of the research into the days we found many other related websites, many featuring quite elaborate water rockets and launch systems.