Knex Workshops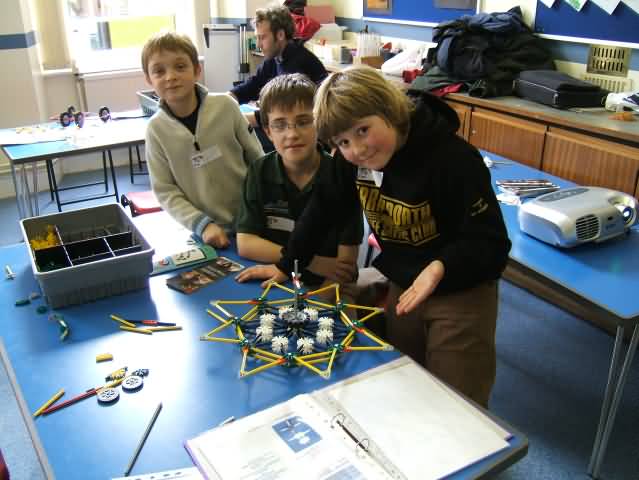 Knex is ideally suited to developing learning skills with its mixture of planning and reasoning with hands-on practical application.
Westcliff Primary School, Dawlish, Devon
Pupils in years 1,2 and 3 addressed in science and DT the basic concepts of forces. Using literary resources such as Quentin Blake's 'Mrs Armitage and the Big Wave' they explored the concepts of pushing and pulling. To enable pupils to experience these basic concepts they experienced a hands on design and technology workshop with the theme of vehicles, using Kids K'nex and K'nex. In addition families enjoyed an after school CD tank workshop using recycled materials. They discovered elastic potential energy and kinetic energy and explored the ideas of pushing, pulling and friction. The children had a great time developing the popular story of Mrs Armitage. Brakespeare and Miranda enjoyed making an amazing sand buggy from using bits and pieces (Kids Knex) that they found while beach combing. Using a fan they were able to move their buggies through the use of wind power. After a busy day with the children and their families I enjoyed a brief stroll along the seashore. From Dawlish to Bangalore, supporting families in their learning is a great job!
Warminster Prep School, Warminster, Wiltshire
These photos were taken at sessions run at the Royal Cornwall Museum where the challenge was to build toys of yesteryear, integrated with a special exhibition of historical toys running in the museum at the time. (click on any photo to enlarge it)




Knex football and spinning tops
This series of photos were taken from a youth club at St. Edmund's Church, Calne where the challenge set was to build a mousetrap. (click on any photo to enlarge it)
As a Training Consultant for the Knex UK User Group in the South West, Sue can tailor workshops to specific challenges applicable to your group, with all materials provided.
As you would expect from the Learning Tree, Sue specialises in family-learning, early-years, primary schools and children's club settings. As well as running workshops for you, Sue can also train your workshop or club leaders to run sessions themselves.
As part of the package, discounts and special offers are often available from the user group shop (enter code KTCS in the online shop at www.constructionkits2enjoy.org.uk)