Spaghetti Bridges
In celebration of 200 years of Brunel the team came up with the spaghetti bridge challenge to respond to Andrew Kelly's question in his essay on Brunel -
Where are the new Brunels?
He wrote that there were 8 qualities that made Brunel one of the greatest engineers the world has seen. These were:- Family, mentors and partners, education, vision, leadership, marketing, ideas and a commitment to quality and the best.
As a group of people passionate about learning and learning to learn we thought this sounded very familiar and qualities we are promoting throughout our work with children and adults we believe that all our children can possess the same qualities that made Brunel 'the little giant' that he was. In understanding how we learn and supporting learning through family learning events we can all go - 'En Avant—Forward' (Brunel's motto)
Southbroom Infants' School
The children have been working hard looking at how they learn and in particular looking at how to really 'get into' learning.
They are discovering that when you learn you may feel excited, frustrated or just confused. Being a RESILIENT learner means that you are able to understand all these feelings and use them.
Sometimes learning is hard, we don't always get it right. If you learn to understand it's o.k. to make mistakes then you are more likely to have a go, stick at something and not be distracted. Developing these skills at an early age makes you a RESILIENT LEARNER now and throughout your life.
The children have been looking at traditional stories including 'The Gingerbread man.' In science they have been looking at changing materials.
In the original story the gingerbread man trusts the fox to carry him across the river, safely to the other side. Instead, he gets eaten!
The challenge today is to change the ending of the story. We are going to build bridges using materials such as paper, spaghetti, pennies and K'nex rods. By changing the way we use the materials we can create different bridges to help the Gingerbread man cross the river.
Amesbury Archer School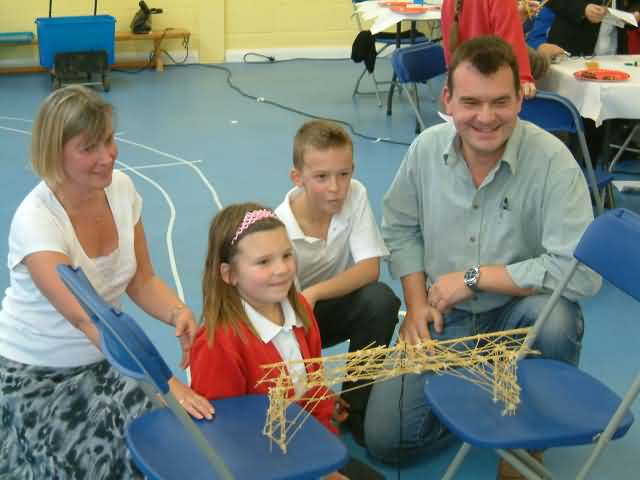 Chippenham Neeld Hall
This workshop particularly appealed to 'dads', with over 50% of the families attending with a male adult.
The teams had to construct a bridge from 75g of spaghetti to span a 50cm wide chasm between two tables. The challenge was to see which bridge could support the greatest weight. The winning bridge supported 1.45Kg and won a superb Knex Bridge Kit for their school - kindly donated by the Knex User Group for the event.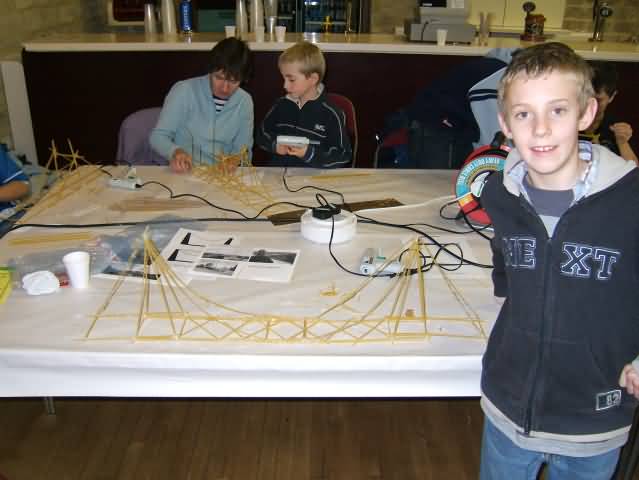 One of the finished bridges can be seen above with more pictures below of bridges under test
Some Brunellian thinking taking place.
A Knex Workshop was also held to provide experience in different materials. Participants also made Brunel stove-pipe hats (which entertained those family members too young to build the bridges).